The Medical Letter on Drugs and Therapeutics
In Brief: Semglee - A New Insulin Glargine for Diabetes
Med Lett Drugs Ther. 2021 Jan 25;63(1616):14-5
Disclosures
Principal Faculty
Mark Abramowicz, M.D., President: no disclosure or potential conflict of interest to report
Jean-Marie Pflomm, Pharm.D., Editor in Chief: no disclosure or potential conflict of interest to report
Brinda M. Shah, Pharm.D., Consulting Editor: no disclosure or potential conflict of interest to report
F. Peter Swanson, M.D., Consulting Editor: no disclosure or potential conflict of interest to report
Additional Contributor(s)
Cynthia Covey has disclosed that her spouse is employed by a company that has pharmaceutical companies as clients and his work relates to the development of marketing materials for companies such as Merck and BMS.
Objective(s)
Upon completion of this activity, the participant will be able to:
Compare Semglee, a new insulin glargine product, to Lantus.
The FDA has approved Semglee (Mylan), an insulin glargine product similar to Lantus, for treatment of type 1 diabetes in children and adults and type 2 diabetes in adults. Semglee is the second "follow-on" insulin glargine product to become available in the US; Basaglar, which is also similar to Lantus, was the first.1 Lantus is a recombinant analog of human insulin that forms microprecipitates in subcutaneous tissue, prolonging its duration of action to a mean of about 24 hours with no pronounced peak effect.2

REGULATORY STATUS — Even though Basaglar and Semglee are highly similar to Lantus in composition, strength, and biological properties, and they appear to produce similar clinical results, the three products are not considered interchangeable; pharmacists generally cannot substitute one product for the other without permission from the prescriber. For a biosimilar to be approved as an interchangeable product, the manufacturer must conduct clinical trials to prove that the results will be the same if the patient switches back and forth between the reference product and the biosimilar. In one trial, switching between Semglee and Lantus resulted in similar efficacy, but to date Semglee has not received interchangeability status from the FDA.3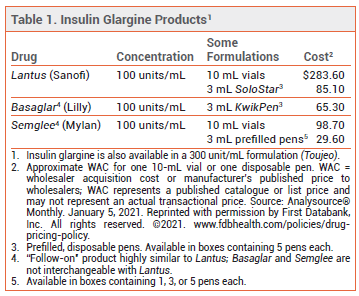 CLINICAL STUDIES — FDA approval of Semglee was based on the results of one open-label trial in 558 patients with type 1 diabetes (INSTRIDE 1) and one in 560 patients with type 2 diabetes (INSTRIDE 2). Patients were randomized to receive once-daily treatment with Semglee or Lantus in addition to mealtime insulin lispro. In both trials, the mean decrease in A1C levels from baseline to 24 weeks, the primary endpoint, was similar with Semglee and Lantus.4,5
ADVERSE EFFECTS — All insulins can cause hypoglycemia and weight gain. Adverse effects of Semglee are similar to those observed with other insulin glargine products.
PREGNANCY AND LACTATION — Poorly controlled diabetes increases the risk of pre-eclampsia, spontaneous abortion, and preterm delivery.6 Administration of insulin glargin e to pregnant animals has not been associated with fetal adverse developmental outcomes.
Insulin is a normal component of human breast milk and adequate glycemic control is needed for milk production. Women taking exogenous insulin, which passes into breast milk, can breastfeed.
DOSAGE AND ADMINISTRATION — Semglee should be injected subcutaneously once daily at the same time each day. Patients receiving Lantus or Basaglar can switch to Semglee at the same daily dosage.
CONCLUSION — Semglee, a "follow-on" version of the long-acting insulin analog insulin glargine, offers a lower-cost alternative to Lantus. Although similar in efficacy and safety to Lantus, to date it has not been approved by the FDA as an interchangeable product and cannot be substituted for Lantus without permission from the prescriber.
© The Medical Letter, Inc. All Rights Reserved.
The Medical Letter, Inc. does not warrant that all the material in this publication is accurate and complete in every respect. The Medical Letter, Inc. and its editors shall not be held responsible for any damage resulting from any error, inaccuracy, or omission.