The Medical Letter on Drugs and Therapeutics
An EUA for Sotrovimab for Treatment of COVID-19
Med Lett Drugs Ther. 2021 Jun 28;63(1627):97-8
Disclosures
Principal Faculty
Mark Abramowicz, M.D., President: no disclosure or potential conflict of interest to report
Jean-Marie Pflomm, Pharm.D., Editor in Chief: no disclosure or potential conflict of interest to report
Brinda M. Shah, Pharm.D., Consulting Editor: no disclosure or potential conflict of interest to report
Additional Contributor(s)
Michael Viscusi, Pharm.D., Associate Editor: no disclosure or potential conflict of interest to report
Objective(s)
Upon completion of this activity, the participant will be able to:
Review the efficacy and safety of sotrovimab for treatment of COVID-19.
Revised 7/1/2021: The Availability paragraph has been revised.
Revised 1/6/2022: The Variants paragraph has been updated.
ELIGIBILITY – The FDA recently expanded the criteria by which a patient with COVID-19 can be considered at high risk for disease progression. All outpatients ≥12 years old who are overweight or pregnant or have cardiovascular disease, hypertension, or chronic respiratory disease are now eligible to receive monoclonal antibody treatment (see Table 1).5,6
Use of monoclonal antibodies has been associated with worse clinical outcomes in hospitalized patients with COVID-19 who require high-flow oxygen or mechanical ventilation. Sotrovimab and other monoclonal antibodies are not authorized for use in patients who are hospitalized for COVID-19 or require oxygen therapy because of COVID-19.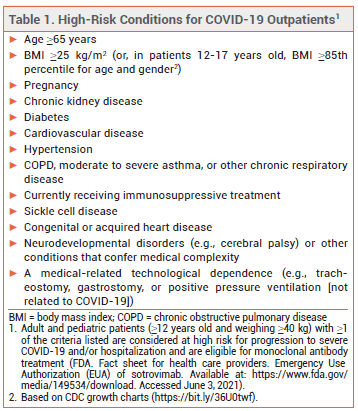 MECHANISM OF ACTION — Sotrovimab binds to a preserved epitope on the spike protein of SARS-CoV-2. Its exact mechanism of action is unknown, but it appears to prevent membrane fusion after the virus binds to the human ACE2 receptor.
CLINICAL STUDIES — Issuance of the EUA was based on interim results from an unpublished double-blind trial (COMET-ICE; summarized in the FDA Fact Sheet) in 583 adult outpatients with mild to moderate COVID-19 who were ≥55 years old or had at least one comorbidity (diabetes, obesity, chronic kidney disease, heart failure, COPD, or moderate to severe asthma). Patients were randomized to receive a single IV infusion of sotrovimab 500 mg or placebo. The primary endpoint, progression of COVID-19 (hospitalization for >24 hours or death) by day 29, occurred in 1% of patients who received sotrovimab and in 7% of those who received placebo (HR 0.14 [95% CI 0.04-0.56]; NNT 16.2).6
No studies directly comparing sotrovimab with casirivimab and imdevimab or bamlanivimab and etesevimab are available.
VARIANTS — Sotrovimab retains efficacy against all current SARS-CoV-2 variants of concern, including the Omicron and Delta variants.
Treatment-emergent epitope variants were detected in 8 patients who received sotrovimab in COMET-ICE; some of these substitutions conferred reduced susceptibility to the drug.6
ADVERSE EFFECTS — The most common adverse effects of sotrovimab in COMET-ICE were rash (2%) and diarrhea (1%). Hypersensitivity reactions, including anaphylaxis, have occurred rarely with use of monoclonal antibodies, including sotrovimab, for treatment of COVID-19.
DOSAGE AND ADMINISTRATION — Sotrovimab is supplied in 500 mg/8 mL vials, which require refrigeration during storage. The authorized dosage is 500 mg administered as a 30-minute IV infusion after dilution in 50 or 100 mL of normal saline. If the solution cannot be used immediately after dilution, it can be refrigerated for up to 24 hours or left at room temperature for up to 4 hours, including infusion time. Sotrovimab should be allowed to sit at room temperature for 15 minutes before dilution or infusion.
Sotrovimab should be administered as soon as possible after a positive SARS-CoV-2 test result and within 10 days of COVID-19 symptom onset. Patients should be treated in a facility staffed and equipped to manage anaphylaxis; they should be monitored for hypersensitivity reactions during and for at least 1 hour after infusion of the drug.
AVAILABILITY — Sotrovimab is being distributed by the wholesaler AmerisourceBergen while it is available under an EUA. Information on ordering and availability can be found at www.sotrovimab.com/hcp/access.
CONCLUSION — The FDA has issued an Emergency Use Authorization (EUA) for the monoclonal antibody sotrovimab (VIR-7831) for IV treatment of mild to moderate COVID-19 in patients at high risk for progression to severe disease. In a double-blind trial, use of the drug in high-risk adult outpatients recently diagnosed with COVID-19 decreased the risk of hospitalization or death. Sotrovimab appears to retain efficacy against prominent SARS-CoV-2 variants. No studies directly comparing sotrovimab with other monoclonal antibodies for treatment of COVID-19 are available.
© The Medical Letter, Inc. All Rights Reserved.
The Medical Letter, Inc. does not warrant that all the material in this publication is accurate and complete in every respect. The Medical Letter, Inc. and its editors shall not be held responsible for any damage resulting from any error, inaccuracy, or omission.