The Medical Letter on Drugs and Therapeutics
ONLINE
ONLY
ARTICLE
In Brief: A Shorter Treatment Regimen for Tuberculosis (online only)
Med Lett Drugs Ther. 2021 Aug 23;63(1631):e3
Disclosures
Principal Faculty
Mark Abramowicz, M.D., President: no disclosure or potential conflict of interest to report
Jean-Marie Pflomm, Pharm.D., Editor in Chief: no disclosure or potential conflict of interest to report
Brinda M. Shah, Pharm.D., Consulting Editor: no disclosure or potential conflict of interest to report
Objective(s)
Upon completion of this activity, the participant will be able to:
Discuss how the efficacy of a 4-month regimen that includes moxifloxacin compares to that of the standard 6-month regimen for treatment of drug-susceptible pulmonary tuberculosis.
In a clinical trial conducted by the CDC's Tuberculosis Trials Consortium in collaboration with the NIH-funded AIDS Clinical Trials Group, a new 4-month regimen for treatment of drug-susceptible pulmonary tuberculosis was found to be noninferior to 6 months of standard treatment.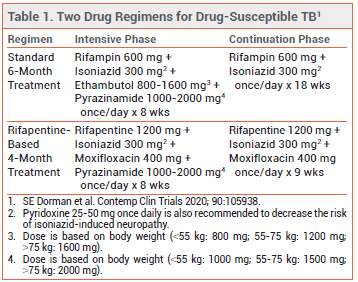 STANDARD TREATMENT — Patients with drugsusceptible tuberculosis have typically been treated with rifampin, isoniazid, pyrazinamide, and ethambutol during an initial 8-week intensive phase, and then with rifampin and isoniazid during an 18-week continuation phase. Once-daily treatment is preferred, but twice- or three-times-weekly dosing can be used as an alternative in patients who are HIV-negative and do not have smear-positive or cavitary disease. Directly observed therapy should be used to ensure treatment adherence.1
THE CLINICAL TRIAL — Study 31/A5349 was a randomized, open-label trial in which 2516 patients ≥12 years old with pulmonary tuberculosis were randomized to receive 6 months of standard once-daily treatment or one of two 4-month treatment regimens using high-dose rifapentine, isoniazid, pyrazinamide, and either moxifloxacin or ethambutol. The 4-month regimen that included moxifloxacin was noninferior to standard treatment for the primary endpoint of disease-free survival at 12 months (88% vs 90%) and similar to standard treatment in safety and tolerability. The 4-month regimen with ethambutol did not meet the prespecified criteria for noninferiority compared to standard treatment.2
CONCLUSION — The positive results with the 4-month regimen have been recognized by the CDC and the WHO as an important development in the effort to improve treatment of tuberculosis.3,4 Shortening the required duration of antimicrobial therapy may increase treatment adherence, which could theoretically decrease disease prevalence and the risk for development of drug resistance.
© The Medical Letter, Inc. All Rights Reserved.
The Medical Letter, Inc. does not warrant that all the material in this publication is accurate and complete in every respect. The Medical Letter, Inc. and its editors shall not be held responsible for any damage resulting from any error, inaccuracy, or omission.