The Medical Letter on Drugs and Therapeutics
COVID-19 Update: FDA Authorizes Novavax COVID-19 Vaccine
Med Lett Drugs Ther. 2022 Aug 8;64(1656):121-2
Disclosures
Principal Faculty
Mark Abramowicz, M.D., President: no disclosure or potential conflict of interest to report
Jean-Marie Pflomm, Pharm.D., Editor in Chief: no disclosure or potential conflict of interest to report
Brinda M. Shah, Pharm.D., Consulting Editor: no disclosure or potential conflict of interest to report
Additional Contributor(s)
Michael Viscusi, Pharm.D., Associate Editor: no disclosure or potential conflict of interest to report
Objective(s)
Upon completion of this activity, the participant will be able to:
Review the efficacy and safety of the Novavax vaccine for prevention of COVID-19.
The FDA has issued an Emergency Use Authorization (EUA) for an adjuvanted protein subunit COVID-19 vaccine manufactured by Novavax.1 The vaccine is indicated for use as a two-dose primary series to prevent COVID-19 in adults; it is not authorized for use in children or as a booster dose. Three other COVID-19 vaccines are available in the US for primary immunization of adults; the mRNA vaccines manufactured by Pfizer/BioNTech (Comirnaty) and Moderna (Spikevax) are FDA-licensed for this indication, and the adenovirus-based vaccine manufactured by Johnson & Johnson (Janssen) is available under an EUA for use in adults who are unable or unwilling to receive another COVID-19 vaccine.2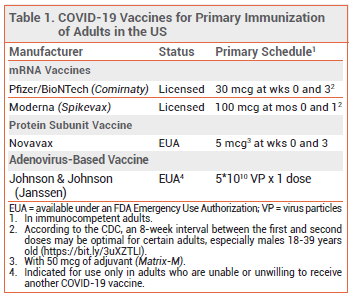 CLINICAL STUDIES — Issuance of the EUA for the Novavax vaccine was based on the results of an observer-blind trial (PREVENT-19) in which 29,945 adults in the US and Mexico were randomized 2:1 to receive the vaccine or placebo at 0 and 3 weeks. Immunocompromised persons and those with a history of SARS-CoV-2 infection were excluded. In the per-protocol population (n=25,657), reverse transcriptase polymerase chain reaction (RT-PCR)-confirmed symptomatic COVID-19 with onset ≥7 days after the second dose occurred in 17 subjects who received the vaccine and in 79 of those who received placebo; the vaccine efficacy rate was 90.4% (95% CI 83.8%-94.3%). Moderate or severe COVID-19 occurred in 0 subjects who received the vaccine and in 14 of those who received placebo.3,4 There were not enough COVID-19 cases in PREVENT-19 among adults ≥65 years old to produce a statistically significant result in this subgroup, but in a similar trial in 15,187 adults in the UK, the efficacy rate of the Novavax vaccine in adults ≥65 years old (88.9%) was similar to that in the overall population (89.7%).5
Most COVID-19 cases in PREVENT-19 and the UK trial were caused by the Alpha variant of SARS-CoV-2. The efficacy of the Novavax vaccine against currently circulating Omicron variants of the virus (e.g., BA.2.12.1, BA.4, BA.5) remains to be determined.3,5,6
ADVERSE EFFECTS — Injection-site pain/tenderness, fatigue/malaise, myalgia, arthralgia, headache, and nausea or vomiting were common following administration of the Novavax vaccine. Adverse effects were more common and more severe following the second dose, and were less common and less severe in adults ≥65 years old. The most common severe adverse effects following the second dose in adults 18-64 years old were fatigue/malaise (10.6%), injection-site pain/tenderness (6.3%), and myalgia (5.3%). Myocarditis and/or pericarditis occurred in 2 persons who received the vaccine and in 0 who received placebo.4
PREGNANCY AND LACTATION — Data on use of the Novavax vaccine in pregnant women are lacking. No developmental toxicity was observed in the offspring of female rats given the vaccine before and during pregnancy.4
The American College of Gynecology (ACOG) recommends vaccination against COVID-19 for all females, including those who are pregnant or breastfeeding. The mRNA vaccines are preferred over the Janssen vaccine; no specific recommendation on use of the Novavax vaccine during pregnancy was available at press time.7
DOSAGE, ADMINISTRATION, AND STORAGE — The Novavax vaccine is supplied in vials that contain ten 0.5-mL doses. Vials should be refrigerated before use; after the first dose is withdrawn, they should be stored at room temperature for up to 6 hours and then discarded.
The recommended dosage for primary immunization is 0.5 mL (5 mcg of vaccine with 50 mcg of adjuvant) injected intramuscularly at 0 and 3 weeks. The vaccine should be swirled gently in its vial before a dose is withdrawn, but it should not be diluted or shaken.4
© The Medical Letter, Inc. All Rights Reserved.
The Medical Letter, Inc. does not warrant that all the material in this publication is accurate and complete in every respect. The Medical Letter, Inc. and its editors shall not be held responsible for any damage resulting from any error, inaccuracy, or omission.