The Medical Letter, Inc. is a nonprofit organization that publishes critical appraisals of new prescription drugs and comparative reviews of drugs for common diseases in its newsletter,
The Medical Letter on Drugs and Therapeutics
.
All of our products are valuable sources of reliable, objective, and unbiased drug information. They include: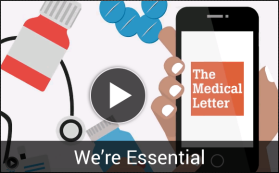 Reader Testimonials

Our Mission
The Medical Letter, Inc. is committed to providing objective, practical, and timely information on drugs and treatments of common diseases to help our readers make the best decisions for their patients—without the influence of the pharmaceutical industry.
Many of our readers know that pharmaceutical companies and their representatives often exaggerate the therapeutic effects and understate the adverse effects of their products, but busy practitioners have neither the time nor the resources to check the accuracy of the manufacturers' claims. Our publication is intended specifically to meet the needs of busy healthcare professionals who want unbiased, reliable, and timely drug information. Our editorial process is designed to ensure that the information we provide represents an unbiased consensus of medical experts.
If a new prescription drug offers genuine advantages over older drugs, we say so.
If a new prescription drug offers no advantage, if its effectiveness is limited, or if it is too toxic or too expensive to justify its use, we say so.
If new drug information changes the status of previously reviewed drugs, we publish follow-up reports.
The Medical Letter is supported by its readers, and…
does not receive any commercial support
does not sell reprints to industry for promotion
does not accept advertising in any of its publications
History
The Medical Letter, Inc. was founded in 1958 by Arthur Kallet, the co-founder of Consumers Union, and Dr. Harold Aaron.

Arthur Kallet
Kallet was an engineer who co-wrote the book 100,000,000 Guinea Pigs, a best-seller in the 1920s. Some say it played an important part in the Food and Drug Act of 1938, which required for the first time that drugs must be shown to be safe before they can be marketed. Kallet also was a co-founder of Consumer Research, which became Consumers Union, and he started the publication of Consumer Reports.

Dr. Harold Aaron
Aaron was an internist who was on the advisory board of Consumers Union. He suggested to Kallet that doctors could use something like Consumer Reports to help them judge the worth of new drugs coming on the market. They borrowed $25,000 from a psychiatrist, and The Medical Letter was born.
Our flagship publication, The Medical Letter on Drugs and Therapeutics, was first published in 1959. Our subscribers are located in almost 100 countries and include practicing physicians in every medical specialty, pharmacists, physician assistants, nurse practitioners, medical educators, residents and interns, and medical and pharmacy students.
Board Members
President, The Medical Letter
Stephen G. Baum, M.D.
Albert Einstein College of Medicine
William H. Frishman, M.D., M.A.C.P.
New York Medical College
Vice President, Editor in Chief, The Medical Letter
Howard B Presant Esq.
Trust and Estate Partner at Davidoff Hutcher & Citron
The Medical Letter Editorial Staff
PRESIDENT
Mark Abramowicz, M.D.
VICE PRESIDENT, EDITOR IN CHIEF
Jean-Marie Pflomm, Pharm.D.
ASSOCIATE EDITORS
Susan M. Daron, Pharm.D.
Amy Faucard, MLS
Michael P. Viscusi, Pharm.D.
CONSULTING EDITORS
Joanna Esterow, PA-C
Mordechai Sacks, DMSc, PA-C
Brinda M. Shah, Pharm.D.
F. Peter Swanson, M.D.
CONTRIBUTING EDITORS
Carl W. Bazil, M.D., Ph.D.
Columbia University College of Physicians and Surgeons
Ericka L. Crouse, Pharm.D., B.C.P.P., C.G.P., F.A.S.H.P., F.A.S.C.P.
Virginia Commonwealth University
Vanessa K. Dalton, M.D., M.P.H.
University of Michigan Medical School
Eric J. Epstein, M.D.
Albert Einstein College of Medicine
David N. Juurlink, BPhm, M.D., Ph.D.
Sunnybrook Health Sciences Centre
Richard B. Kim, M.D.
University of Western Ontario
Sandip K. Mukherjee, M.D., F.A.C.C.
Yale School of Medicine
Dan M. Roden, M.D.
Vanderbilt University School of Medicine
Esperance A. K. Schaefer, M.D., M.P.H.
Harvard Medical School
Neal H. Steigbigel, M.D.
New York University School of Medicine
Arthur M.F. Yee, M.D., Ph.D., F.A.C.R.
Weill Medical College of Cornell University
CANADIAN EDITORS
Sandra R. Knowles, BScPhm
Sharon Yamashita, Pharm.D., FCSHP
Sunnybrook Health Sciences Centre
MANAGING EDITOR AND
DIRECTOR OF CONTENT OPERATIONS

Susie Wong
EDITORIAL ASSISTANT
Karrie Ferrara
INTERIM PUBLISHER

Jean-Marie Pflomm, Pharm.D.