The Medical Letter on Drugs and Therapeutics
ONLINE
ONLY
ARTICLE
In Brief: Another Insulin Lispro (Admelog) for Diabetes (online only)
Med Lett Drugs Ther. 2018 Jun 18;60(1549):e109
The FDA has approved Admelog (Sanofi-Aventis), an insulin lispro product similar to Humalog (Lilly), which went off patent in 2013.
Approval of Admelog was based on efficacy data with Humalog and on two 6-month, open-label, randomized, noninferiority trials. In SORELLA 11 in 507 patients with type 1 diabetes and SORELLA 22 in 505 patients with type 2 diabetes, Admelog was noninferior to Humalog in lowering A1C, fasting plasma glucose levels, and self-monitored plasma glucose levels. The incidence of adverse effects, including hypoglycemia, was similar.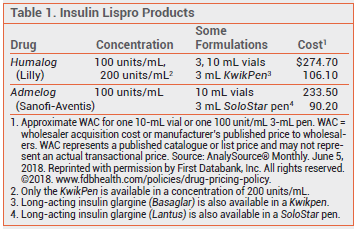 Even though Admelog is very similar to Humalog in composition, strength, and structural and biological properties, and appears to produce the same glucose-lowering effects, it was not designated as a biosimilar or an interchangeable biologic product by the FDA because of a regulatory technicality: insulin is classified as a chemical, not a biological, entity, so there is no biologic reference product for insulin lispro. Pharmacists cannot substitute Admelog for Humalog without the permission of the prescriber.
Admelog is available in 10-mL vials and in packages of five multi-dose SoloStar pens, each prefilled with 3 mL of insulin lispro 100 units/mL. A pen can deliver 1 to 80 units per injection. It should be primed with 2 units of insulin lispro before each injection. Admelog should be injected subcutaneously within 15 minutes before a meal, or immediately after a meal.
Admelog is similar to Humalog in efficacy and safety. Patients could use either one.
© The Medical Letter, Inc. All Rights Reserved.
The Medical Letter, Inc. does not warrant that all the material in this publication is accurate and complete in every respect. The Medical Letter, Inc. and its editors shall not be held responsible for any damage resulting from any error, inaccuracy, or omission.