The Medical Letter on Drugs and Therapeutics
In Brief: Trijardy XR - A New 3-Drug Combination for Type 2 Diabetes
Med Lett Drugs Ther. 2020 Jun 1;62(1599):88
Disclosures
Principal Faculty
Mark Abramowicz, M.D., President: no disclosure or potential conflict of interest to report
Jean-Marie Pflomm, Pharm.D., Editor in Chief: no disclosure or potential conflict of interest to report
Brinda M. Shah, Pharm.D., Consulting Editor: no disclosure or potential conflict of interest to report
F. Peter Swanson, M.D., Consulting Editor: no disclosure or potential conflict of interest to report
Objective(s)
Upon completion of this activity, the participant will be able to:
Review the efficacy and safety of the fixed-dose combination of metformin, linagliptin, and empagliflozin (Trijardy XR) for treatment of type 2 diabetes.
The FDA has approved Trijardy XR (Boehringer Ingelheim/Lilly), a fixed-dose combination of the sodium-glucose cotransporter 2 (SGLT2) inhibitor empagliflozin,1 the dipeptidyl peptidase-4 (DPP-4) inhibitor linagliptin,2 and extended-release metformin, for oral treatment of type 2 diabetes in adults. Empagliflozin and linagliptin have been available in a fixed-dose combination as Glyxambi since 2015,3 and both have been available in 2-drug combinations with extended-release metformin for years (see Table 1).

Used alone, oral antihyperglycemic drugs usually lower glycated hemoglobin (A1C) by 0.5-1.5%. Metformin is generally the drug of choice for initial treatment of type 2 diabetes. If metformin alone does not achieve the desired A1C goal, comorbidities or cost may determine the choice of a second drug: options include an SGLT2 inhibitor or a GLP-1 receptor agonist for patients with cardiovascular disease or chronic kidney disease, an SGLT2 inhibitor for patients with heart failure, or a sulfonylurea if cost is an issue. If glycemic control is not achieved with maximum doses of 2 drugs, insulin or another drug can be added.4
Two randomized, open-label, crossover studies in a total of 60 healthy adults found that the 3-drug combination tablet was bioequivalent to individual tablets of empagliflozin, linagliptin, and extended-release metformin taken together.5
No new efficacy trials were required for approval of Trijardy XR. Approval of the 3-drug combination was based on the results of earlier trials in which addition of empagliflozin/linagliptin to metformin reduced A1C significantly more than addition of either drug alone.
The labeling of Trijardy XR includes a long list of warnings and precautions about adverse effects, including lactic acidosis associated with metformin, acute pancreatitis with DPP-4 inhibitors, and euglycemic ketoacidosis with SGLT2 inhibitors. As might be expected with a 3-drug combination available in 4 different strengths, the dosing instructions for starting treatment are complex.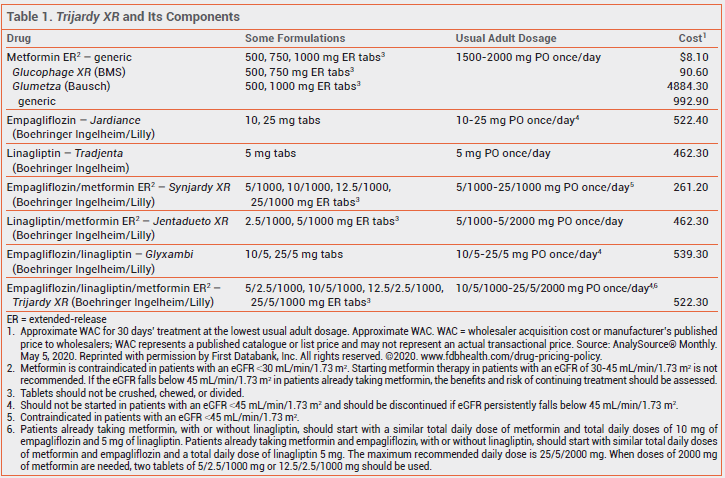 © The Medical Letter, Inc. All Rights Reserved.
The Medical Letter, Inc. does not warrant that all the material in this publication is accurate and complete in every respect. The Medical Letter, Inc. and its editors shall not be held responsible for any damage resulting from any error, inaccuracy, or omission.