The Medical Letter on Drugs and Therapeutics
An EUA for Bamlanivimab - A Monoclonal Antibody for COVID-19
Med Lett Drugs Ther. 2020 Nov 30;62(1612):185-6
Disclosures
Principal Faculty
Mark Abramowicz, M.D., President: no disclosure or potential conflict of interest to report
Jean-Marie Pflomm, Pharm.D., Editor in Chief: no disclosure or potential conflict of interest to report
Brinda M. Shah, Pharm.D., Consulting Editor: no disclosure or potential conflict of interest to report
F. Peter Swanson, M.D., Consulting Editor: no disclosure or potential conflict of interest to report
Objective(s)
Upon completion of this activity, the participant will be able to:
Discuss the efficacy and safety of bamlanivimab for treatment of COVID-19.
Revised 3/22/21: A new paragraph on Variants has been added.
The investigational neutralizing IgG1 monoclonal antibody bamlanivimab (LY-CoV555; Lilly) has been granted an FDA Emergency Use Authorization (EUA) for treatment of recently diagnosed mild to moderate COVID-19 in patients who are ≥12 years old, weigh at least 40 kg, and are at high risk for progressing to severe disease and/or hospitalization (see Table 1).1

Monoclonal antibodies, such as bamlanivimab, may be associated with worse clinical outcomes when administered to hospitalized patients with COVID-19 requiring high flow oxygen or mechanical ventilation. Bamlanivimab is not authorized for use in patients who are hospitalized or require oxygen therapy because of COVID-19.
MECHANISM OF ACTION — Bamlanivimab binds to the receptor binding domain of the spike protein of SARS-CoV-2, blocking the spike protein's attachment to the human ACE2 receptor.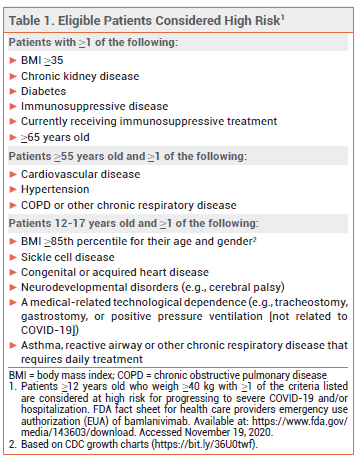 CLINICAL STUDIES — In an interim analysis of an ongoing phase 2 trial (BLAZE-1), 452 outpatients with recently diagnosed mild or moderate COVID-19 (within 3 days of first positive test) were randomized to receive a single IV infusion of one of three doses of LY-CoV555 or placebo. The primary endpoint was the decrease from baseline in SARS-CoV-2 viral load on day 11. The decrease was significantly greater with a 2800-mg dose of the antibody than with placebo, but not with 700- and 7000-mg doses, possibly because most patients, including those treated with placebo, had effectively cleared the virus by day 11.
The predefined secondary endpoint of hospitalization or emergency department visit for COVID-19 by day 29 occurred in 1.6% of antibody recipients and 6.3% of placebo recipients. In a post-hoc analysis of patients at high risk (BMI ≥35 or ≥65 years old) for disease progression, 4 of 95 patients (4%) who were treated with LY-CoV555 were hospitalized or visited the emergency department, compared to 7 of 48 (15%) of those treated with placebo.2
Hospitalized Patients – The NIH ACTIV-3 trial, which is evaluating multiple investigational agents in hospitalized patients with COVID-19, stopped randomizing patients to treatment with LY-CoV555 based on an analysis suggesting that the antibody was not beneficial in this population.3
VARIANTS — Bamlanivimab has retained activity against the B.1.1.7 (UK) variant of SARS-CoV-2, but it is unlikely to have activity against the B.1.351 (South Africa), P.1 (Brazil), B.1.427/B.1.429 (California), and B.1.526 (New York) variants.4 Coadministration of etesevimab with bamlanivimab appears to decrease the development of treatment-emergent SARS-CoV 2 variants.5
ADVERSE EFFECTS — In the BLAZE-1 trial, nausea occurred in 3.9%, dizziness in 3.2%, and mild infusion reactions in 2.3% of antibody recipients, compared to 3.5%, 2.1%, and 1.4%, respectively, of placebo recipients. According to the FDA's fact sheet for the EUA, one anaphylactic reaction and one serious infusion-related reaction were reported with infusion of bamlanivimab in ongoing, blinded trials.
DOSAGE AND ADMINISTRATION — Bamlanivimab is authorized for administration as a single 700-mg IV infusion over at least 60 minutes. The drug should be given as soon as possible after a SARS-CoV-2 positive test result and within 10 days of COVID-19 symptom onset. Patients should be treated in a facility staffed and equipped to manage anaphylaxis and they should be monitored for hypersensitivity reactions during administration of the drug and for at least 1 hour after completion of the infusion.
The diluted solution for infusion should be used immediately after it is prepared. If immediate use is not possible, it can be stored in the refrigerator for up to 24 hours or at room temperature for up to 7 hours, including infusion time.
AVAILABILITY — Bamlanivimab will be allocated to state health departments by the US Department of Health and Human Services (HHS) based on case counts and severity of outbreaks. These state health departments will be responsible for allocating the antibody to local health facilities. Finding facilities equipped to administer an IV infusion and capable of managing anaphylaxis while not exposing uninfected patients to SARS-CoV-2 may be difficult.
CONCLUSION — The investigational IV monoclonal antibody bamlanivimab (LY-CoV555) has been granted an Emergency Use Authorization (EUA) from the FDA based on its association with a reduction in emergency department visits and hospitalizations in recently diagnosed patients with mild or moderate COVID-19 considered to be at high risk of progressing to severe disease and/or hospitalization. The drug needs to be infused over 1 hour in a facility equipped to manage anaphylaxis. Bamlanivimab has not been beneficial in hospitalized patients.
© The Medical Letter, Inc. All Rights Reserved.
The Medical Letter, Inc. does not warrant that all the material in this publication is accurate and complete in every respect. The Medical Letter, Inc. and its editors shall not be held responsible for any damage resulting from any error, inaccuracy, or omission.