The Medical Letter on Drugs and Therapeutics
In Brief: New Meningococcal Serogroup B Vaccination Recommendations
Med Lett Drugs Ther. 2020 Nov 30;62(1612):191-2
Disclosures
Principal Faculty
Mark Abramowicz, M.D., President: no disclosure or potential conflict of interest to report
Jean-Marie Pflomm, Pharm.D., Editor in Chief: no disclosure or potential conflict of interest to report
Brinda M. Shah, Pharm.D., Consulting Editor: no disclosure or potential conflict of interest to report
F. Peter Swanson, M.D., Consulting Editor: no disclosure or potential conflict of interest to report
Additional Contributor(s)
Michael Viscusi, Pharm.D., Associate Editor: no disclosure or potential conflict of interest to report
Objective(s)
Upon completion of this activity, the participant will be able to:
Discuss the new recommendations for use of booster doses in meningococcal serogroup B vaccination.
The Advisory Committee on Immunization Practices (ACIP) has issued new recommendations for meningococcal vaccination.1 Booster vaccination against Neisseria meningitidis serogroup B (MenB) is now recommended in persons at increased risk for meningococcal disease (see Table 1). MenB booster doses were not recommended previously for any population.

Two MenB vaccines (Bexsero, Trumenba) are licensed in the US. Persons ≥10 years old at increased risk for meningococcal disease should receive a two-dose primary series of Bexsero or a three-dose primary series of Trumenba. Persons who remain at increased risk should receive a booster dose of the same MenB vaccine 1 year after completing the primary series and every 2-3 years thereafter. During an outbreak, previously vaccinated persons should receive a single booster dose if ≥1 year has passed since completion of the primary series.1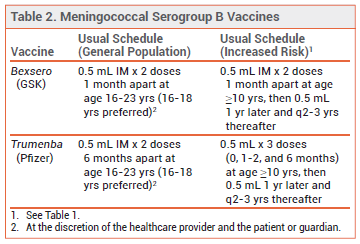 MenB vaccination is not routinely recommended for adolescents, but a two-dose MenB primary series may be considered for young adults 16-23 years old (preferably at 16-18 years) to provide short-term protection during a period of increased risk (e.g., among first-year college students living in dormitories).1
Recommendations for vaccination against N. meningitidis serogroups A, C, W, and Y (MenACWY) have remained unchanged.1,2 Two quadrivalent MenACWY vaccines (Menactra, Menveo) are currently available in the US; a third quadrivalent vaccine that uses tetanus toxoid as a protein carrier (MenQuadfi) was licensed in 2020 and is expected to become available in the first quarter of 2021.3 Healthy adolescents should receive one dose at age 11-12 years and a booster dose at age 16 years. Persons at increased risk for meningococcal disease can receive MenACWY vaccination beginning at age 2 months and should receive periodic booster doses.1
© The Medical Letter, Inc. All Rights Reserved.
The Medical Letter, Inc. does not warrant that all the material in this publication is accurate and complete in every respect. The Medical Letter, Inc. and its editors shall not be held responsible for any damage resulting from any error, inaccuracy, or omission.