The Medical Letter on Drugs and Therapeutics
In Brief: An Asenapine Patch (Secuado) for Schizophrenia
Med Lett Drugs Ther. 2021 Jan 11;63(1615):7-8
Disclosures
Principal Faculty
Mark Abramowicz, M.D., President: no disclosure or potential conflict of interest to report
Jean-Marie Pflomm, Pharm.D., Editor in Chief: no disclosure or potential conflict of interest to report
Brinda M. Shah, Pharm.D., Consulting Editor: no disclosure or potential conflict of interest to report
F. Peter Swanson, M.D., Consulting Editor: no disclosure or potential conflict of interest to report
Additional Contributor(s)
Cynthia Covey has disclosed that her spouse is employed by a company that has pharmaceutical companies as clients and his work relates to the development of marketing materials for companies such as Merck and BMS.
Objective(s)
Upon completion of this activity, the participant will be able to:
Review the efficacy and safety of transdermal asenapine (Secuado) for treatment of schizophrenia.
A transdermal formulation of the second-generation (atypical) antipsychotic asenapine (Secuado – Noven) has been approved by the FDA for once-daily treatment of schizophrenia in adults. Asenapine is the first antipsychotic to become available in a transdermal formulation in the US. A twice-daily sublingual tablet formulation of asenapine (Saphris) has been available since 2009.

FDA approval of transdermal asenapine was based on the results of earlier trials that assessed the efficacy of sublingual asenapine in adults with schizophrenia and on one 6-week, double-blind trial comparing transdermal asenapine to placebo in 607 adult inpatients with schizophrenia. Patients treated with transdermal asenapine had statistically significantly greater improvements from baseline in the Positive and Negative Syndrome Scale (PANSS) score at 6 weeks, the primary endpoint, than those who received placebo (see Table 1). Asenapine was also superior to placebo in the Clinical Global Impressions-Severity (CGI-S) rating scale, the secondary endpoint.1 Transdermal asenapine has not been compared directly with the sublingual formulation or with any other antipsychotic drug.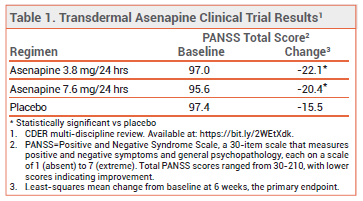 Antipsychotic drugs, including asenapine, can cause somnolence, metabolic adverse effects (hyperglycemia, diabetes, dyslipidemia, and weight gain), extrapyramidal symptoms, dystonia, tardive dyskinesia, neuroleptic malignant syndrome, hypertension, orthostatic hypotension, falls, leukopenia, neutropenia, QT interval prolongation, and hyperprolactinemia.2 Application-site reactions occurred in ~15% of patients treated with transdermal asenapine in the clinical trial. Seizures have occurred with use of sublingual asenapine and theoretically could occur with transdermal asenapine. Elderly patients with dementia-related psychosis treated with antipsychotic drugs are at an increased risk of death.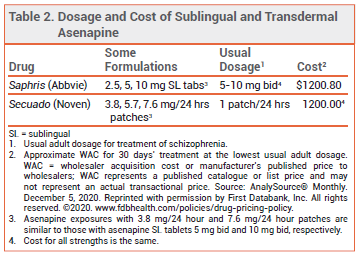 The initial dosage of Secuado is one 3.8-mg patch applied once daily. After 1 week, the dosage can be increased to 5.7 mg/24 hours or 7.6 mg/24 hours. The patch should be applied to clean, dry, intact skin on the upper arm, upper back, abdomen, or hip. The new patch should be applied to a site different from that of the previous patch. If irritation or a burning sensation occurs, the patch should be removed and a new one should be applied at a different site. Secuado can be used while showering, but not while swimming or taking a bath. External heat sources should not be applied to the patch because heat can increase drug release and systemic exposure to the drug. Asenapine is contraindicated in patients with severe hepatic impairment (Child-Pugh C).
© The Medical Letter, Inc. All Rights Reserved.
The Medical Letter, Inc. does not warrant that all the material in this publication is accurate and complete in every respect. The Medical Letter, Inc. and its editors shall not be held responsible for any damage resulting from any error, inaccuracy, or omission.