The Medical Letter on Drugs and Therapeutics
In Brief: Semglee - Insulin Glargine Interchangeable with Lantus
Med Lett Drugs Ther. 2021 Oct 4;63(1634):159-60
Disclosures
Principal Faculty
Mark Abramowicz, M.D., President: no disclosure or potential conflict of interest to report
Jean-Marie Pflomm, Pharm.D., Editor in Chief: no disclosure or potential conflict of interest to report
Brinda M. Shah, Pharm.D., Consulting Editor: no disclosure or potential conflict of interest to report
Objective(s)
Upon completion of this activity, the participant will be able to:
Discuss the approval of Semglee as an interchangeable insulin glargine product.
Insulin glargine-yfgn (Semglee – Viatris), a follow-on insulin glargine product, has now received interchangeability status with the reference product Lantus from the FDA. It is the first biosimilar insulin product to receive this designation in the US. Now a pharmacist can substitute Semglee for Lantus as a lower-cost alternative without permission from the prescriber.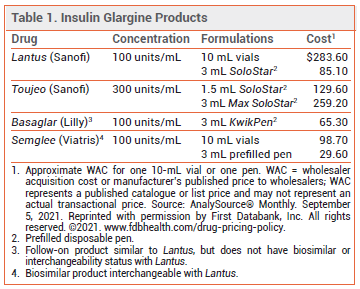 A biosimilar is a biologic product that is highly similar to and has no clinically meaningful differences from the FDA-approved reference product. For a biosimilar to be approved as an interchangeable product, the manufacturer must conduct clinical trials to prove that the results will be the same if the patient switches between the reference product and the biosimilar.1 In an open-label trial (INSTRIDE 3) in patients with type 1 diabetes, switching between Lantus and Semglee resulted in similar efficacy, safety, and immunogenicity.2
Basaglar, another follow-on insulin glargine product similar to Lantus in composition, strength, and biological properties, has produced similar clinical results, but does not have biosimilar or interchangeability status.3,4
The manufacturer of Semglee will have exclusivity for 12 months before the FDA can designate another biosimilar as interchangeable with Lantus.
© The Medical Letter, Inc. All Rights Reserved.
The Medical Letter, Inc. does not warrant that all the material in this publication is accurate and complete in every respect. The Medical Letter, Inc. and its editors shall not be held responsible for any damage resulting from any error, inaccuracy, or omission.